Schreibtag on February 26, 2016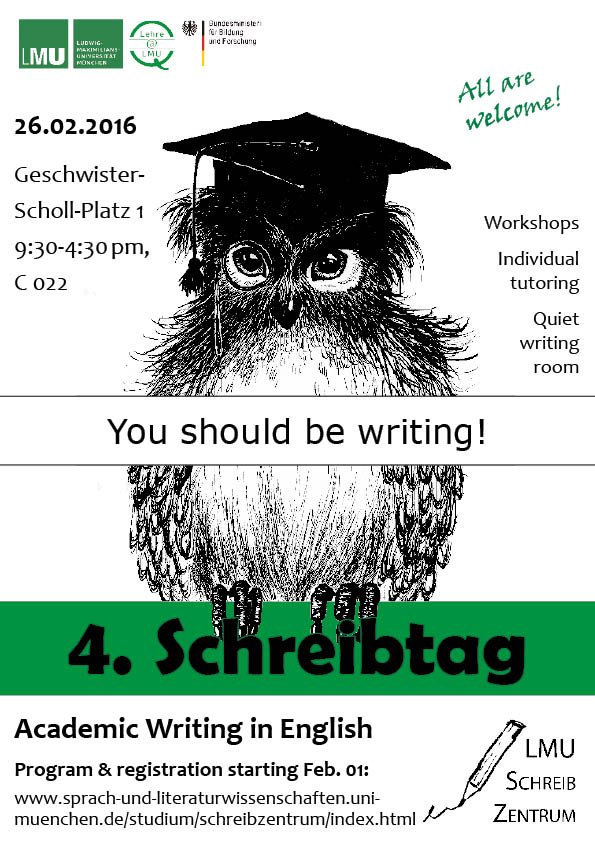 The Writing Center invites you to join us at the Schreibtag (Writing Day)!
We will discuss topics such as research, time management and coping with writer's block both in workshops and in lectures. Tutors offer individual sessions in the Schreibcafé (Room C 022, Geschwister-Scholl-Platz 1) concerning the paper you are currently working on, and also offer advice on academic writing. You are also very welcome to stop by if you are just looking for a great spot to write your paper (there is a quiet room for writing only!).
This Schreibtag's focus is academic writing in English. The next Schreibtag will be taking place on
Friday,

February 26, 2016

; 9:30 a.m. to 4:30 p.m.
Schreibcafé in Room C 022 at Geschwister-Scholl-Platz
(room distribution | site plan)
The Writing Center offers
Tutoring
Tutoring is free of charge and conducted by trained peer tutors. We'll help you improve your writing skills, so that you will be prepared for future projects as well.
We offer support
If you experience any difficulties in writing your paper
In defining your topic
If you experience difficulties in using German as an academic language
In developing efficient writing strategies
In defining a concept for your working schedule, including time management strategies
Concerning all other questions related to academic writing!
No registration is necessary for the tutoring sessions. Just stop by at the Schreibcafé! (Room C 022)
Workshops
We offer several workshops (program with brief description of the workshops). Please remember to register! All workshops will be in English.
Cornelia Rémi: "Elementary Expedition Equipment: Tools to Start your Writer's Journey" (10 am, 90 min)
Marcy Scholz: "Reading: A Silent Skill" (10 am, 90 min)
Mark Olival-Bartley: "The Elements of Academic Style" (10 am, 90 min)
Mark Olival-Bartley: "The Elements of Academic Style" (12 pm, 90 min)
Amy Mohr: "Academic Writing in the Humanities" (12 pm, 90 min)
Alexander Kohlmaier: "Scientific Writing" (2 pm, 90 min)
Amy Mohr: "Producing a Social Scientific Text" (2 pm, 90 min)
The workshops will take place in the rooms C 009 and C 016 on the first floor (distribution of the rooms | site plan). All workshops will start c.t.